I feel so stupid. I just wasted -uh- 45 minutes thinking that the computer would load and it DIDN'T! I hope I can finish everything...here's an
outline
:
1. Celebrate!
2. Recent Happenings
3. To-Do-List
4. Some HTML Tips
5. More Events (:O) & Site Info
Let's start now...I don't have much time!!!!
1. Celebrate!


YAH! We are on our fiftieth post! Okay yeah I'm done (not kidding! :P)
2. Recent Happenings
-As I just said, I wasted a bunch of time sitting in front of a computer that wouldn't load after about ten minutes so I am finally on a faster computer!
-AUGH I am so exhausted from the dress rehearsal! My arm is tired from holding my violin, my feet were tired from standing yeah; we have to stand for 5 songs :(, and my neck hurt from my shoulder rest so I was out of breath. Whew! Felt like I just finished a lacrosse practice -good times :).
-Ehh I ate dinner. Mmmmm it was good!
-OH! I made a silly putty in science (haha before I accidentally wrote math :D). So fun. Except it's white. Sticky fun.. heehee..
-OMG the room I'm in smells terrible!
3. To-Do-List
OH so now my favorite color goes on when the least things will be on here?! AUGH! Oh well...let's start.
*Read Bible (:D I am sooo behind; the last time I read for non-church purposes was like a month ago! At least I am like 3 books ahead of everyone)
*Take a Shower
*Journal -I didn't get to yesterday! :(
4.Some HTML Tips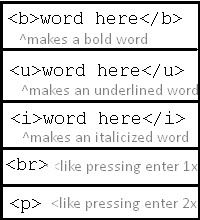 5. More Events & Site Info
-Site Info
*About the RANDOM TOPICS I just remembered about them and then the name game. Since I can't really think of anything I'll post the new name game stuff for letter 'a' some time before Thursday.
*Did you notice if you came on here like Saturday the picture was blue flowers and hearts and now it's different? Well I changed that for 2 reasons. I changed it first for the reason being that on the home page it would all be blue and blue is NOT my #1 favorite color! So, I'll be alternating each week, and maybe on special occasions I'll make it a little more special. Oh, and that was the second reason!
*I only have time to upload one or two categories for the webs page. I hope you enjoy just that even if it's not all of it!
*I got a new fact today and I'll -hopefully- post it tomorrow!
-More Events!
I know it's such a surprise even after that super duper long list from Saturday! No worries there's not THAT much stuff..
*On 5/7, I am gonna tour my district's middle school! Sorta excited, sorta tense.
*On 5/14 I am making ice cream in my class!
You know what's weird? Both of these days are birthdays!
Oh my goodness I am finally done! I just have to put a few categories on the webs page and I am DONE for today!!!!!!!!!!!! Freedom at last!!! Thank God Almighty, we are free at last! :D I think Abe Lincoln said that..I donno.

OKAY NEVER MIND PEOPLE I CAN'T UPDATE THE WEBS PAGE SORRY BUT MY MOTHER WANTS ME TO GO TAKE A SHOWER AND I AM TOO EXHAUSTED ANYWAY BUH BYE!
~JoAnn :)~